Every two years, Blacktie-Colorado honors a special humanitarian with the Georgia R. Imhoff Outstanding Philanthropist Award.
This year's winner will be announced at the 2013 "Have You Met" party at EXDO Event Center, 1399 35th St., on Oct. 15. The "Have You Met" feature is a popular piece on the Blacktie-Colorado website about Denver's movers and shakers.
Since its inception more than 10 years ago, Blacktie-Colorado has interviewed 400 philanthropists and each one has his or her own unique perspective on helping others. The late Georgia R. Imhoff was a co-founder of Blacktie-Colorado.
Tickets for the "Have You Met" party are just $35 and include one drink and heavy appetizers. Registration is at www.blacktie-colorado.com; event code is  HYM2013.
Denver company's creative designs for your vintage wines
When you see a creative wine storage unit at a Denver restaurant, it's likely that the sassy shelving system came from VintageView, a Denver-based company, which displays bottles label-forward.
The sleek, innovative design makes it easier to showcase a wine collection and find the perfect bottle of wine, champagne or spirit.
The company recently held a media event at Ocean Prime, a high-end steak and seafood space on Larimer Square in a private room with a gorgeous wine-storage wall.
In addition to restaurant installations, VintageView offers display options for residential projects. The patented metal system features modular-style racks that can be modified to suit various spaces from personal wine cellars and retail stores to large-scale restaurants and event venues.
"The beauty of VintageView, besides its modern label-forward design, is that it can be tailored to any size space," said Charles Malek, president of VintageView. "Whether you're looking to display nine bottles in the privacy of your own home or thousands of bottles in a restaurant, VintageView can be customized to suit any needs."
The metal racks can be mounted to any wall, attached to freestanding displays or mounted to VintageView's floor-to-ceiling frames. Finishes include satin black, brushed nickel, copper, brass and chrome.
Denver establishments that have had the wine racks installed include: Rioja, Wash Park Grill, Bones, Grand Hyatt Denver, Lou's Food Bar, Argonaut Liquors, Osterio Marco, Mizuna, Ocean Prime and Panzano. Other Colorado eateries who use the system are Mod Market and Cured in Boulder, Jax Fish House in Lafayette, Noodles & Co. in Broomfield, Cache Cache and St. Regis in Aspen, The 10th on Vail Mountain and Block 16 at The Sebastian in Vail.
For more details, go to www.vintageview.com.
Wine, women and Woodyard
Are you ready for some football?
Wine, Women and Football, presented by Coloradans for Responsible Energy Development,  is an evening of sipping, snacking and talking smack about any and all Broncos opponents, beginning at 5 p.m. Oct. 15 at Chloe, a Lotus Concepts property at 1445 Market St.
Come and share some X's and O's with players Montee Ball, Sylvester Williams, Britton Colquitt, Wesley Woodyard and one of my favorite former players, Rod Smith.
One hundred percent of proceeds benefit Volunteers of America's Brandon Center, an emergency shelter for women and children. For tickets, go to www.voacolorado.org.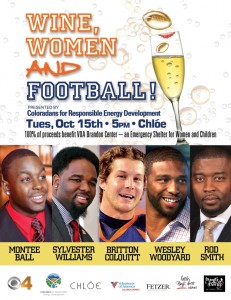 Jive drive
DazzleJazz Restaurant & Lounge at 930 Lincoln St. is hosting a Flood Relief Jazz Drive with a marvelous musical line-up beginning at 5 p.m. through midnight on Thursday. The suggested donation is $10 at the door.
One hundred percent of proceeds will go directly to musicians drastically effected by the flood. In addition, all of the performers are donating their time and talents and Dazzle is donating all profits from the evening.
Here's the melodic schedule:
5 – 5:45 p.m. – Delta Sonics
5:45 – 6:30 p.m. - Hamster Theatre
6:30 – 7:15 p.m. – Adam Bodine Trio
7:15 – 8 p.m. – Pakow and the By All Means Band
8 – 8:45 p.m. – SUCH
8:45 – 9:30 p.m. – CSU faculty & friends band
9:30 – 10:15 p.m. – CU faculty & friends band
10:15 – 11 p.m. – Greg Harris Band
11 – 11:45 p.m. – Gabriel Mervine Band
More information at www.dazzlejazz.com.
Racines rocks!
Racines, one of Denver's most popular B, L and D restaurants (breakfast, lunch and dinner) is doing something nice for furloughed federal workers in light of the government shutdown.
The restaurant knows that the shutdown has real consequences for the many Colorado federal employees who have been furloughed.
Whether they need to drown their sorrows or feed their souls, all federal staffers with a valid ID will get 20 percent off their individual food and beverage tab at Racines through the duration of the shutdown.
"Here's hoping this will be the shortest promotion in Racines' nearly 30-year history," said spokesman John Imbergamo.
Love is lovelier…
Prominent Denver attorney Jay Kamlet, a partner at Lathrop & Gage, popped the proverbial question recently to girlfriend Stephanie Keyes, a senior broker at Weststar Commercial.
Kamlet is a Denver native, while Keyes was born and raised in suburban Chicago. She has two boys, Jake and Sammy, 18 and 16, who both go to Cherry Creek High School.  She moved to Denver in 1993.
"We were introduced by our mutual friend, Julie Westfield, in spring of 2011, and we have been dating ever since," Kamlet told me. "My kids, Alyssa, Ian and Amalia all adore her."
Kamlet, the hopeful romantic, took Keyes to The Palm where the restaurant's general manager Cathy Cooney gave the engagement ring to the waiter who presented it on the dessert plate with the cheesecake, which Kamlet insisted that Keyes order.
"She is the kindest, most selfless person I have ever met, and I am blessed to have her in my life," Kamlet said.
Hot, hot, hot
Former Denver newspaper sports reporter (now with ESPN) Adam Schefter has been plucked by Virgin Atlantic Airways to search for a "Red Hot Reporter" for the upcoming NFL International Series game in London, according to a story posted by MarketingDaily at http://www.mediapost.com/publications/article/210228/virgin-atlantic-launches-promo-with-nfl.html.
"The selected person will interview players, go behind the scenes with sideline access and showcase the fan experience from the Virgin Atlantic suite," the story says. "(The winner) will fly in style to cover the game, between the San Francisco 49ers and Jacksonville Jaguars, at Wembley Stadium on Oct. 27."
Applicants must first follow @virgin_atlantic on Twitter. They will then create a video on the platform of their choice and tweet the video to @virgin_atlantic with the hashtag #redhotreporter. Schefter will select and announce the winner on Oct. 14.
Go whole hog
This little piggy went to dinner beginning at 6 p.m. Oct. 8 at Restaurant Kelly Liken in Vail.
Restaurant owner Liken in conjunction with Denver butchery expert Mark DeNittis will put a specially raised 4-H hog under the knife for the third annual Whole Hog Dinner.
The four-course nose-to-tail dinner (at $99 per person excluding tax and gratuity) will be paired with hand-crafted cocktails by mixologist Ian Tulk featuring spirits from family owned and operated Colorado distillery Leopold Bros.
To see the menu for the dinner and for reservations, go to www.kellyliken.com.
The seen
As posted by USA Today and former Denver Post sports writer Lindsay Jones on Twitter:
Broncos Coach John Fox on Jack Del Rio, candidate for the USC head coaching job and whom some media outlets reported was in Los Angeles on Sunday night:  "I know he's focused on Dallas. He wasn't at LAX. I was with him at Del Frisco's when that report happened."
Eavesdropping on a wife and a husband: "I thought you said you were going to change that light bulb."
"I did. But I didn't say I was going to change it today."
Did you hear that I have a new column, "Mile High Life," in Colorado Community Media's 17 weekly newspapers circling Denver? Be sure to like my Facebook page! Also, here's where you go to get my column emailed to you Mondays, Wednesdays and Fridays. My email: penny@blacktie-llc.com. Want to advertise your business here? Contact Trisha at trilind@hotmail.com.