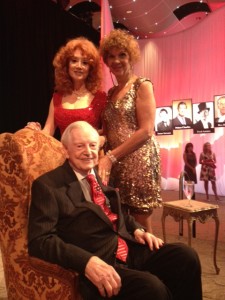 So what would it take for Judi Wolf and Cleo Parker Robinson to perform on stage together? Donald Seawell's 100th birthday.
On Aug. 1, those of us who were lucky enough to be invited to such an illustrious affair inside of his namesake ballroom, witnessed several testimonials to Seawell, free run 6 femmes who's made an indelible mark on this city's theatrical heritage.
But the most entertaining moment came when Wolf and Parker Robinson kicked up their heels in their version of "My Heart Belongs to Donald".
But as it should be, Seawell had the last word. "This has been a fabulous evening. When I'm asked what it's like to be 100, I say it's fun. If I could get more evenings like this, I'd live another 100 years."
More Sabor
Sabor, the annual food fest to support the Hispanic Chamber of Commerce, was a great success at the Denver Botanic Gardens last week.
Restaurants came out to supply best bites while supporting the Chamber. The nearly sold-out affair was muy caliente y sabroso. Que bueno!
Leftys
The right hand will know what the left hand is doing when Euclid Hall Bar & Kitchen, 1317 14th St., joins hands with Left Hand Brewing Co. at 7 p.m. Aug. 13 for a left-handed dinner and beer fest celebrating National Left-Handers Day.
Guests should expect left-handed surprises throughout the event. Right-handed participants are welcome as well. Euclid Hall chef de cuisine Jorel Pierce has prepared a multi-course menu paired with favorites from Left Hand.
Menu and reservations: www.euclidhall.com or 303-595-4255.
Ain't it grand?
The Grand Hyatt Denver's general manager Greg Leonard recently announced the opening of Pub 17, the hotel's new restaurant on the corner of 17th and Welton.
The new pub aims to capture the mood and flavor of the Mile High City by providing neighborhood microbrews, regional wine and fun food fare.
Pub 17 prides itself for serving a bounty of locally grown produce, artisan cheeses and premium meats. Menu items include the Mile High Reuben or chef de cuisine Jay Leandro's interpretation of mac and cheese.
Other menu stand-outs include a Western-style herb roasted bone marrow. Every signature dish complements a list of local microbrews. Reservations: 303-295-1117 or www.pub17denver.com.
Burger boys
This month's edition of Food Network magazine free run 6 v2 femmes includes a bit called "You can eat like a football player," restaurants are kicking off football season with dishes named after NFL players.
Two of my favorite QBs get the nod with Drew Brees' Breesy Beef Mac and Peyton Burger.
The Breesy Beefy Mac  is a fave rave for the New Orleans Saints QB who eats the ground beef and macaroni before every game. A chef at the Ritz-Carlton apparently added a version with béarnaise sauce, andouille sausage and ground beef to the menu.
On Manning's behalf, locally based Smashburger announced that Colorado locations would serve an off-the-menu Peyton Burger topped with orange hot sauce and blue cheese in honor of Broncos' colors.
Say yes to the address
The Palm in the Westin Tabor Center has secured back its free valet for lunch and dinner. That's good news to those of us who drive to the steak place and bristle at paying to park.
The On the Town family recently had an amazing dinner at the restaurant located at 16th and Lawrence. Reservations: www.thepalm.com/denver.
Eavesdropping on a husband and a wife: "When we met it was love at first sight?"
"For you?"
Did you hear that I have a new column, "Mile High Life," in Colorado Community Media's 17 weekly newspapers circling Denver? Be sure to like my Facebook page! Also, here's where you go to get my column emailed to you Mondays, Wednesdays and Fridays. I'm now the social-media liaison for the Mile High Chapter of the Colorado Restaurant Association, so read my latest restaurant news there. My email: penny@blacktie-llc.com.