Congrats to Lakewood High School for winning the "Good Morning America" contest to have Katy Perry perform a song at their high school!
More than 2,000 Lakewood High students lip-synched to Perry's hit song, "Roar," as part of the school's video entry.
Perry announced the winner on "Good Morning America" Friday morning.
"For me Lakewood really embodied a whole school spirit. You saw so many different people coming together to do one shot," Perry said Friday. "It was so interesting and so well done."
Amazingly, the video was shot in one take and has been viewed on Vimeo more than 564,000 times and earned 246,000 views on YouTube. 7News first reported the news.
Perry will perform at Lakewood High  — the home of the Tigers (how's that for some cosmic karma!) — on Friday, Oct. 25 and will be broadcast on ABC's "Good Morning America." Proceeds from the concert reportedly will go to the Colorado flood relief effort.
Check out the video at http://vimeo.com/75058173.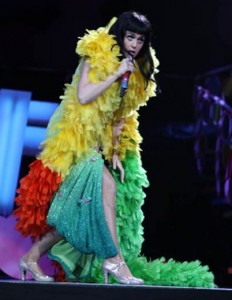 Plante's pregnant pause drama
Media madness or a pregnant pause, perhaps?
Was KOSI radio/9News' personality Denise Plante pulling a prank on thousands of Facebook friends when she posted a picture of a pregnancy stick she allegedly peed on Wednesday?
She let the drama play out as she posted evolving pictures of the stick as it was turning positive or negative. She even snagged 9News medical expert Dr. John Torres to witness the gag.
"Am I pregnant?  We will soon find out,  Dr. John Torres from @9News is in the house!" Plante posted. The plot thickened with pictures of the stick as it revealed her pregnancy status.
And when the "results" were in?
"Turns out, I'm just a moody momma. Not pregos  … good news for (husband) Michael Plante."
On the serious side, Plante, co-DJ of KOSI's morning show and host of "Colorado & Company," said she thought at one point that the pregnancy was possible.
"I called Dr. John Torres … to ask if it's possible after tubes tied over 10 years ago, and he said, 'Yes,' so (I) decided to do the test. He comes in every Wednesday so he said he would bring the test. It turned out that hormones are wacky at 41."
Tamburello honored for philanthropy
More than 100 community do-gooders (thank goodness for them) gathered at EXDO Event Center Tuesday to bestow Highland developer and philanthropist Paul Tamburello with the Georgia R. Imhoff Philanthropist Award, which recognizes an individual who has given back.
Imhoff was the co-founder, with Blacktie owner Kenton Kuhn, of blacktie-colorado.com, the online resource for local charities. Blacktie has been around for 12 years and has profiled more than 350 leaders in the Colorado philanthropic community in its "Have You Met?" column.
More than 100 of those philanthropy superstars gathered to mingle, munch and pay tribute to Tamburello, the force behind Little Man Ice Cream, Linger, Root Down and Lo-Hi.
"Every two years, we throw a party to honor all the people that we've interviewed for our Have You Met column," Kuhn said. "It's always a great party and a fun event that celebrates the philanthropic community."
Strings restrung
I've been back to Strings once since owner Noel Cunningham died. Since his wife, Tammy, opted to close the place (running a restaurant is not her thing) the building on 17th Avenue and Humboldt had stood like a monument to a time when the restaurant was frequented by celebrities from stage and screen, along with loyal locals.
When it was announced that there would be new life stirring in that space with the occupation of Humboldt Farm. Fish. Wine, a Rock Bottom founder Frank Day project, I, for one, was happy to hear of the rebirth.
Humboldt opened about a week ago under the leadership of Concept Restaurants.
"From the instant our guests walk in and have that 'wow moment' to the time they leave, we want to make sure their experience here is spectacular and memorable," said Concepts designer Dianna Lynn. "Whether you are on top of the Denver foodie scene or visiting Humboldt for the first time and looking for an amazing dining experience, we are a welcoming place for everyone."
The remodeled restaurant features an oyster bar and open kitchen. The kitchen team of executive chef DJ Nagel and chef D cuisine Kollin Gately collaborated on a menu featuring reinterpreted classics as well as seasonal and modern cuisine.
Humboldt is open daily from 11:30 a.m. Weekend brunch starts at the end of October. For more information, go to www.humboldtrestaurant.com or call 303-813-1700.
People's court
The world-famous Harlem Globetrotters will take fan interaction up a notch when the 2014 Fans Rule World Tour comes to the Pepsi Center at 2 p.m. March 30.
Through online voting at www.harlemglobetrotters.com/rule, fans can choose which new game-changing rules they want to see when the creative b-ballers come to our court.
The 2014 online ballot includes three never-before-seen rules:
* Hot Hand Jersey – both teams will have a "Hot Hand Jersey" they can pass among each other. The player wearing this jersey will receive double points on make baskets.
* Make or Miss – The quarter begins with only two players on the court from each team. When a team scores, a teammate may enter the game. When they miss, the player missing the shot must leave the court.
* Trick Shot Challenge – Using three challenge flags per team, each coach can challenge the other team to make a trick shot. If the team makes the shot, they earn five points. If they miss, the other team receives five points.
Tickets start at $19, and are available at www.harlemglobetrotters.com, www.tickethorse.com, the Pepsi Center box office or by phone at 866-461-6556.
Lottery line
Although the second Denver run of "The Book of Mormon" is not sold out, a limited number of tickets for each performance (Oct. 22-Nov. 24) will be sold through the luck of the lottery.
Entries will be accepted at the box office beginning 2 1/2 hours before each performance. Each person will print his or her name and number of tickets (one or two) they wish to purchase. Two hours before curtain, names will be drawn at random for a limited number of tickets priced at $25 each.
Winners must be present at the time of the drawing and show valid ID. Limit one entry per person and two tickets per winner.
Additional tickets for the hit musical start a $40 by calling Denver Center ticket services at 303-893-4100, at the Denver Center ticket office or at www.denvercenter.org.
"The Book of Mormon" features story, music and lyrics by Colorado natives Trey Parker and Matt Stone of "South Park" fame, along with Robert Lopez.
Oy vey, Ho Mei
A Denver restaurant again is being "honored," but for its bad food.
Yahoo.com's The Daily Meal announces its 101 Best Restaurants in America. Monday, the Daily Meal revealed its five worst eateries and one Denver restaurant – Ho Mei Chinese – made the list.
Ho Mei has two Denver locations – 3740 Peoria St. and 3260 Colorado Blvd. – so maybe it should be a "double dishonor" on the list?
Here's what Yahoo wrote about Ho Mei, which ranked third worst:
"Ho Mei must translate to the Yiddish 'Oy Vey' or more poignantly, 'Viscous Mush,' wrote one Yelp reviewer of this questionable Denver Chinese restaurant. 'FLEE!,' chimed in another reviewer; 'AVOID,' another. 'The sesame chicken was hard as a rock and tasted like nothing I could identify,' another wrote. 'The place is dirty. I shudder to imagine what the kitchen looks like. Save your money. Go lick a bus seat to get the same gastrointestinal experience for free.' And in 2012, they racked up $7,000 in health code violation fines. Yikes."
Here's the entire Yahoo "bottom" five: http://shine.yahoo.com/shine-food/worst-restaurants-america-153400509.html
Eavesdropping on a woman: "There's no divorce in this family, only death."
Did you hear that I have a new column, "Mile High Life," in Colorado Community Media's 17 weekly newspapers circling Denver? Be sure to like my Facebook page! Also, here's where you go to get my column emailed to you Mondays, Wednesdays and Fridays. My email: penny@blacktie-llc.com. Want to advertise your business here? Contact Trisha at trilind@hotmail.com.