Because of a technical glitch, Monday's column went out to subscribers with only a few lines from the first item.
What was supposed to happen was the launch of a new format that would give subscribers the top item, then direct them to click on the link to the Blacktie-Colorado website in order to drive more traffic there. Let's hope it works today…
So, here's what you missed on Monday:
Let's rewind the clock to a few days before the Broncos victory over the Jaguars, who though winless, were certainly no pushovers in Sunday's game.
Former Broncos tight end turned CBS Sports commentator Shannon Sharpe, in Denver Sunday to cover the Broncos-Jaguars game, was spotted at his former quarterback, John Elway's Cherry Creek steak house Saturday night.
But while he warmly greeted Elway and his wife, Paige, in the restaurant, was he also picking Elway's pocket? During the "NFL Today" broadcast, Sharpe told fellow football prognosticators James Brown and Dan Marino that he had dined at Elway's establishment Saturday night.
"I put dinner on John Elway's tab," Sharpe said, most likely joking. I can only confirm that Sharpe, joined by fellow former teammate Rod Smith, were there, but who paid is not known.
Meanwhile, back at "The Late Show With David Letterman" last week, lead guest Michael Strahan, star of "Live! With Kelly and Michael" and former New York Giants defensive end, and Letterman discussed Broncos QB Peyton Manning. Although Letterman will always favor his hometown Indianapolis Colts, he can't "quit" Manning after all his years as the Colts QB.
Here's the transcript from CBS.com:
Dave asks (Strahan) about Manning: "What's all that barking he does at the line of scrimmage?  Peyton points and shouts and prances up and down the line yelling instructions to his linemen and backs. What's he doing?"
Strahan: "It's a lot of B.S.  Peyton Manning may be smart enough to understand all that yakking he's doing, but the guys he's yelling to? The linemen? The other guys on the team? They aren't that smart. He's doing it for show. The defense bark, 'Just snap the ball!!'"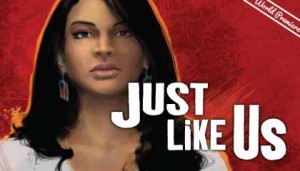 Que bueno!
I took a neighbor to see "Just Like Us," the play adapted from the book by Helen Thorpe, the estranged wife of Gov. John Hickenlooper, at the Stage Theatre last week.
We were the two mature women sitting in the first few rows with tears streaming down our faces. The story follows the plight of four young Latina women — two who are U.S. citizens and two who are illegal immigrants — as they struggle with their high school, college and post-college years.
At the urging of Kent Thompson, Denver Center Theatre Company's producing artistic director, Thorpe agreed to let playwright Karen Zacarias transform her words onto the stage.
The result is a riveting performance, which no matter where you stand on immigration, will at least make you think. The cast is simply marvelous and the sets move around almost as fast as the teacup ride at Disneyland.
If you can go, go. "Just Like Us" plays at the Stage until Nov. 3. Tickets: 303-893-4100 or at www.denvercenter.org.
Diamonds are this girl's best friend
Call it the fickle finger of fate. Call it divine intervention. Or call it just plain luck.
But on Saturday during the annual Champagne and Diamonds gala to benefit Sense of Security, the evening's last act was a random drawing from a glass bowl full of names who had purchased a chance to win a $12,000 diamond necklace donated by Hadley's House of Diamonds.
Drum roll, please. The winner was Vicki Tosher, and the crowd gathered at the downtown Grand Hyatt went wild. Tosher founded the breast cancer patient financial support charity 13 years ago after a dear friend had been diagnosed. Tosher is a two-time survivor.
When her name was called, Tosher wobbled toward the dance floor and her prize in sheer shock. Then she fell to her knees.
"I've won two other things in my life," she said after being helped to her feet. "One was a calculator."
Congratulations, Vicki. There is no one more deserving. Sparkle on, girl!
Playing dress-up
It may be a bit premature for Halloween, but nevertheless, some of Denver's fiercest supporters of The Denver Center for the Performing Arts will be modeling costumes from the Denver Center Theatre Company's closet during Theatre Threads from 11:30 a.m. to 1 p.m. Oct. 23 in the Seawell Ballroom. Proceeds will benefit DCTC and its education programs.
From the looks of the get-ups modeled in the past, this event will upstage a Vegas floor show. This years models are Jeremy Anderson, Jamie Angelich, Fiona Baldwin, Murri Bishop, Keri Christiansen, Sharon Cooper, BJ Dyer, Terri Fisher, Adrienne Ruston Fitzgibbons, Alice Foster, Roger Hutson, Carmel Koeltzow, Gayle Novak, Stacy Ohlsson, Loretta Robinson, Jackie Rotole, Robyn Taylor and (dame) Judi Wolf.
But a would-be thespian also hinted that DCPA chairman and CEO Daniel Ritchie is expected to get into a get-up.
The event features the aforementioned fashion show and luncheon hosted by the Denver Center Alliance.
"I will always remember as a child going to the theatre and being swept away into this magical world filled with lively characters dressed in beautiful costumes," said event chair Denise Bellucci. "It's because of fundraising events like Theatre Threads that, not only can the Denver Center for the Performing Arts give a child this wonderful experience and love of the theatre, but they also help support the creation of it."
Tickets are $100 per person. Reservations: 303-446-4815 or visit www.denvercenter.org/threads.
Wise wine guy
If you haven't heard Marczyk Fine Foods and Fine Wines owner Pete Marczyk wax poetic about the perfection of wine and food pairings, you've missed seeing a showman at his grapey best.
Now's your chance. Marczyk, along with colleague Maxine DiJulio, will present a selection of some of their favorite Italian holiday wines representing styles you may know but varietals you likely don't during an event sponsored by The Denver Chapter of the American Wine Society, beginning at 6:30 p.m. today (Oct. 16) at Panzano, inside the Hotel Monaco at 909 17th St.
Each course, prepared by exceptional executive chef Elise Wiggins and her team, will be paired with two wines of similar styles but at different price points. Attendees will compare and contrast these wines and then pick a favorite. After the votes are counted (barring any hanging chads), the price of each will be revealed.
The event is $65 for AWS members and $75 for non-members and guests. Registration is online only by visiting https://www.blacktie-colorado.com/calendar/event-detail.cfm?id=26189.
Eavesdropping on a woman at a recent charity event: "I am growing out my bangs, it's cheaper than Botox."
Did you hear that I have a new column, "Mile High Life," in Colorado Community Media's 17 weekly newspapers circling Denver? Be sure to like my Facebook page! Also, here's where you go to get my column emailed to you Mondays, Wednesdays and Fridays. My email: penny@blacktie-llc.com. Want to advertise your business here? Contact Trisha at trilind@hotmail.com.