For a suit-and-tie CEO of the Denver Center for the Performing Arts, Daniel Ritchie makes a handsome woman.
And he proved just how fetching he can be in a blingy ball gown during "Theatre Threads," a costume department fashion show featuring models from the DCPA's financial and emotional support group.
As an unadvertised final entry in the fashion show, Ritchie shuffled to the microphone where 9News entertainment editor Kirk Montgomery was lending emcee duties. Much to the delight of the lunching crowd, Ritchie sported a Texas-sized blonde wig, full makeup, false eyelashes, figure hugging bedazzled gown, feather stole, full-length black gloves and black patent open-toe heels.
In a twisted way, he looked hot!
Ritchie was promoting "The Legend of Georgia McBride," which plays in the Ricketson Theatre from Jan. 10 to Feb. 23.
"We didn't have costumes yet so we hired a professional drag queen, and he worked with Dan on the outfit," said Alexandra Griesmer, public relations and promotions manager for the Denver Center Theatre Company. "(Ritchie) was such a great sport – didn't take much convincing!"
Ritchie said his gender-bender experience lent him more empathy toward females.
"I learned that high heels are risky," Ritchie said while Montgomery, dressed as one of the three musketeers, doubled over in laughter. "I was surprised to learn what you do every day. My respect is even higher (for women)."
The play is about a straight young man who unexpectedly takes a dip into the world of drag, Ritchie said. "I didn't know much about being a woman, so I thought I should learn first hand."
Denver Center Alliance's Theatre Threads is a tribute to the talent and passion of the models and backstage stars, Denver Center Theatre Company's costume department. Proceeds support the Arts in Education program, which allows more than 50,000 students the opportunity to experience live theater this academic year.
Other models were: BJ Dyer as a sinister character from "Dracula," Judi Wolf and Carmel Koeltzow from "Pork Pie: A Mythic Jazz Fable," Jeremy Anderson from "Dirty Story," Fiona Baldwin from "Sense & Sensibility The Musical," Murri Bishop from "A Christmas Carol," Keri Christiansen from "Scapin or the Con Artist," Roger Hutson from "A Winter's Tale," Sharon Cooper from "Picasso at Lapin Agile," Terri Fisher from "Room Service," Adrienne Ruston Fitzgibbons and Alice Foster from "The Three Musketeers," Gayle Novak from "Richard III," Stacy Ohlsson and Jackie Rotole from "Romeo & Juliet," Loretta Robinson from "1001," Jamie Angelich from "Twelfth Night" and Robyn Taylor from "The Voysey Inheritance."
Wolf, the DCPA's grand dame, choreographed the show and chose the musical accompaniments.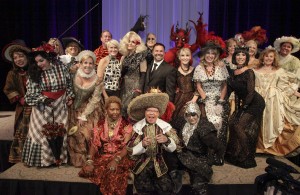 In other DCPA news …
Matthew Morrison, who plays choir teacher Will Schuester on Fox TV's hit series "Glee," is this year's headliner at "Saturday Night Alive," the annual big fancy fundraiser.
Although Morrison has received national attention for his role in "Glee," his acting career blossomed on Broadway with performances in "Footloose," "Hairspray" and "The Light in the Piazza."
"Saturday Night Alive" begins at 6 p.m. March 1 in the Seawell Grand Ballroom. Tickets start at $400; proceeds benefit the Arts in Education program. More information: 303-446-4815 or at www.denvercenter.org.
Fish tales
If you order fish at a local restaurant or pick up some DIY fish filets or shellfish at a specialty grocer, it's likely that the source is Seattle Fish Company, the 95-plus-year-old distributor based in Denver. Seattle Fish supplies the lion's share of swimmers (roughly 80 percent) from a variety of species to the Colorado market.
On Monday, Seattle Fish held its inaugural tasting and seminar in its SFC Educational Series, a media focused program designed to provide a better understanding of the seafood industry. Monday's topic was "The state of the seafood industry, and what does that mean for the future?"
Featured seafood was "discards, underutilized seafood and trash fish." Chef/owner of Il Posto (2011 17th Ave.) Andrea Frizzi bravely went where most chefs dare not tread – into the world of fish that rarely earn a spot on local menus. Dishes sampled included blue fish crudo (Italian ceviche), mackerel crudo, spot fish and porgy.
Seattle Fish chief operating officer Derek Figueroa "schooled" us on aquaculture or farm raised fish vs. wild catch, which uses different hooks and targets specific species. Whereas 2011  fish "scale" statistics in terms of the farm-raised vs. wild fish supply showed roughly two-thirds farm-raised fish to one-third captured in the wild, by 2030, indicators are that the two methods of harvesting fish – farm-raised and wild – will be nearly equal.
Frizzi said he's not above serving "discard fish" on his menu, which changes almost daily. The chef is most concerned over what's fresh.
"Andrea goes out on a ledge and plays with a variety of fish," Figueroa said. "We're going to make 'discards' sexy." And Frizzi delivered. In addition to the two crudo dishes, we sampled (cooked) porgy with sweet potato soup and (cooked) spot fish with baby carrots, hearts of palm and cipollini onions.
"I'm a fly fisherman – catch and release," Frizzi said. "I want to make my resources stay that way." For more information on sustainable species, go to www.sustainablefish.org.
Que paso?
Restaurant mogul Richard Sandoval isn't one to let cilantro grow under his feet. If a concept isn't working, he's willing to throw out el bebe con el agua de bano (the baby with the bath water).
Hence the upcoming reincarnation of the al Lado space at 1610 Little Raven, right around the corner from Sandoval's successful Zengo restaurant.
Al Lado, a small plates and multiple wines by the glass concept, will close on Saturday for a remodel and re-concepting into La Biblioteca (the library), a tequila library and lounge modeled after Sandoval's spot by the same name in New York City.
La Biblioteca will serve an extensive collection of Sandoval's hand-chosen tequilas, some of which are aged up to 250 years. Patrons will "check out" bottles of tequila instead of books and store their selections in a personal locker to sip upon their return. The new casual concept will be a more affordable sibling to Zengo and the menu will feature Latin American and Asian inspired dishes ranging from sushi and wok creations to ceviche and tacos.
Interior changes will include the installation of tequila lockers along the walls, more comfortable furniture, marble-topped tables and more.  And in the spring the space will expand with a new patio.
Boffo burger
Zagat.com food folks included the buffalo burger at Denver's CityGrille (321. E. Colfax Ave.) in its piece called "50 States, 50 Burgers" currently posted on www.zagat.com.
The best-burger story includes the kind of meat or meat substitute Americans like for the burgers, what kind of roll, favorite condiments and where the best burgers can be found, first posted by Culinary Colorado (http://culinary-colorado.com/2013/10/23/city-grille-tops-zagats-denver-burger-list/?utm_source=feedburner&utm_medium=email&utm_campaign=Feed%3A+culinary-colorado+%28CulinaryColorado%29).
Here's what Zagat said:
"In a state known for buffalo and burger lovers who crave bison over beef, it's only fitting that the Buffalo Burger is a favorite of the Centennial State. Bison, or American buffalo, is often leaner, less fatty and some say sweeter — though many also claim the taste isn't much different from a beef burger. Over at local favorite CityGrille in Denver, they serve up a hefty buffalo burger: a half-pound patty, charbroiled to perfection. Much praised, the healthy low-fat, low-cholesterol burger can be topped with a variety of cheeses, a fried egg or guacamole."
For my money, the bun also deserves a nod for its toothsome texture which holds up to a dripping burger without disintegrating under the weight of the patty, lettuce, tomato, onion and pickles. CityGrille has been a favorite of the On the Town family for years. Check out the menu at www.citygrille.com.
The seen
Rocker Joe Cocker (who's lived in Colorado for 20 years) dining at The Oceanaire Seafood Room on Wednesday. My spy tells me that Cocker, who recently returned from a summer-long 46-city European tour, enjoyed fish and chips English style.
Eavesdropping a man talking to a woman about "The Book of Mormon" at "Theatre Threads:" "The first time through, it's crazy. It's like signing up for Obamacare."
Did you hear that I have a new column, "Mile High Life," in Colorado Community Media's 17 weekly newspapers circling Denver? Be sure to like my Facebook page! Also, here's where you go to get my column emailed to you Mondays, Wednesdays and Fridays. My email: penny@blacktie-llc.com. Want to advertise your business here? Contact Trisha at trilind@hotmail.com.