I have the deepest respect for Denver restaurant owner and super chef Jennifer Jasinski (Rioja, Bistro Vendome, Euclid Hall) for her stellar performance in Bravo's "Top Chef Masters," which ended sadly not in her favor Wednesday night.
In losing, as part of the final three, she was nothing but gracious, of course. Here's what James Oseland, editor-in-chief of "Saveur Magazine" had to say about the end results:
"I thought I had a handle on Jennifer's excellence as a cook, and then during the finale meal, she served us her paella gnocchi. My God, it was the single best dish I ate all season — so perfectly balanced, so beautifully executed, so lovely to look at. Unfortunately, for her chances at winning the season, her other three courses — while very, very good — didn't come anywhere near the glory of that dish. Still, if we're handing out prizes for individual plates of food, this one is the season five gold-medal winner."
Almost more important than Jen actually winning the Top chef title, was that not only did she make a major comeback after being disqualified, but then having a rebirth like a Phoenix by returning to the main show after winning with Euclid Hall chef, Jorel Pierce, who played the role of Jen's sous chef, a second-chance chance.
Not to be overlooked was her remarkable snaring the most money for her charity: $35,000 for Work Options for Women, a Denver nonprofit that teaches food service skills to women in poverty.
"I have no regrets at all about this experience," Jasinski said after being defeated by chef Douglas Keane. "Top Chef Masters" win or lose aside, Wednesday was still a good day for the Denver chef. Two of her restaurants, Rioja and Euclid Hall were named among the Top 25 Best Restaurants in the October edition of "5280 Magazine."
On its fourth year, the "5280" list included Rioja in its first two years, however none of Jasinski's eateries made the cut last year. Jen, it was a privilege and pleasure to ride along with your journey on the show, and you're still a Top Chef in Denver!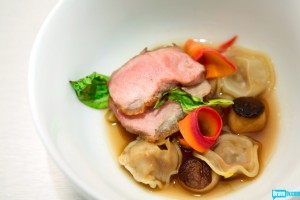 And speaking of "5280"…
Love it or hate it, the aforementioned best 25 restaurants edition is out. And for the second year in a row (big drum roll) Frasca Food and Wine, the much lauded Boulder eatery co-owned by chef Lachlan Mackinnon-Patterson and master sommelier/co-owner Bobby Stuckey scored the No. 1 position on the list.
Other eateries worth noting were Cholon Modern Asian Bistro at Nov. 2 (love!); perennial Japanese favorite Sushi Den at No. 3, Mizuna (chef/owner Frank Bonanno has the golden touch) at No. 4 and relative newbie Bittersweet at No. 5.
Also worth  your dining dollars and were included in the top 25, were Fruition restaurant (to die for) at No. 7, Luca D'Italia (another Bonnano concept at No. 8) and my latest fave rave Old Major where chef/owner Justin Bronson gets jiggy with his knives to create "nose to tail" cuisine.
Another Boulder best 
The University of Colorado-Boulder is back in the top 10. No, not its football program, but on Playboy magazine's top 10 party schools.
CU ranked third in Playboy's 2013 list released in the October issue. West Virginia University topped the list, followed by the University of Wisconsin.
CU topped the list in 2011 and has been a regular in Playboy's poll, which began as the top 40 party colleges in 1987. CU did not make the list a year ago.
This year's list was determined by "Playboy's" editors who used data from resources including the National Center for Education Statistics, the NCAA, and the US Economic Census, as well as feedback from Playboy's more than 12 million social media fans.
The 2012 top party school, University of Virginia, failed to make the 2013 list.
Here's the complete list:
1. West Virginia University
2. University of Wisconsin
3. University of Colorado
4. University of Southern California
5. Florida State University
6. University of Texas
7. Louisiana State University
8. University of Georgia
9. Arizona State University
10. University of Maryland
Anchor woman
Kim Posey, who has been filling in as a morning co-anchor on KWGN-Channel 2's "Daybreak," has been named to the position permanently.
Posey has been a reporter and weekend news anchor at KDVR-Channel 31 since 2000, when the Fox station launched its news programming.
Posey replaces Natalie Tysdal, who left in May. Posey will join longtime "Daybreak" anchor Tom Green on the Channel 2 morning show that airs from 5-9 a.m. Monday through Friday.
Posey will continue some news reporting duties for KDVR and KWGN, which shares news staff.
Love story
Bride to be Lori Paladino Jones posted this thank-you note on the Hyatt Regency Denver at Convention Center's Facebook timeline:
"Our wedding was saved on Saturday September 14 by Hyatt Regency Denver at the Colorado Convention Center and several strangers,  who willingly dropped everything to help us out. It all started last Thursday when our caterer, on one of the only communications we could get from Estes Park said, 'I don't think we can do your event Friday, as I don't think we can get product to Estes to cook. We'll do what we can, but it really doesn't look good. With over 150 wedding guests who had flown in from all over the country we started to panic. Friday morning came, and with it, the teary reality that Estes Park was not to be. Kelly and I simply weren't going to let a little hundred year type rain stand in our way. Friday morning, 9:30 a.m. phone call from my aunt who was staying at the Hyatt Regency Denver at the Convention Center telling us to get over there ASAP.
"By noon that Friday with the help of a lot of very special people, who were strangers to us, we had a plan B. Very Special Thanks goes out to the people at the Hyatt Regency in Downtown Denver! Thank you so much Kris Randall, Lauren Kirkpatrick, Laura Johnson, Eric Leclair and the countless other staff member who worked tirelessly to make our wedding happen."
Mediabistro.com first reported the announcement.
Eavesdropping on a woman watching "Top Chef Masters": "Chef Jen got robbed!"
Did you hear that I have a new column, "Mile High Life," in Colorado Community Media's 17 weekly newspapers circling Denver? Be sure to like my Facebook page! Also, here's where you go to get my column emailed to you Mondays, Wednesdays and Fridays. My email: penny@blacktie-llc.com. Want to advertise your business here? Contact Trisha at trilind@hotmail.com.