It was a heck of a week last week with two amazing events that I was lucky enough to attend.
First up was the Moonbeam Harvest at Clayton Early Learning Center where some of Denver's best chefs put on their culinary best to support a deserving charity. Big shout out goes to chef Troy Guard for organizing the tasty event.
They also had the environment in mind by using recyclable plastic cutlery, which was vegetable based and by having Green Up Denver providing bins throughout the event.
Worth noting was the insane line for Scott Parker's (no relation and not the former Colorado Avalanche player) "waffle eggplant  with chive butter and sweet chili syrup." Really? I mean with a flag sign that says "eggplant" I would normally ignore, but it was TDF (to die for).
Also on the fun meter…
The Carousel Ball to benefit The Barbara Davis Center for Childhood Diabetes on Saturday.
It was a "ball" to forgive the pun. Sherri Shepherd, who clearly doesn't take herself too seriously, was asked, "How are you going to live without Barbara (Walters)," who, BTW is not going away any time soon from "The View," Shepherd said, " Oh my gosh, I don't even want to think about it! "
There's a new ride in town
A new car service has arrived in Denver.
Lyft promises a friendly driver is just minutes away. All you have to do is download their app, tap a button and a car will on the way within minutes. Lyft launched in June 2012 and more than 1 one million rides have been shared across the country.
Lyft operates in 13 cities: San Francisco, Los Angeles, Seattle, Phoenix, Chicago, St. Paul, Minn., Indianapolis, Atlanta, Charlotte, Boston, Denver, Washington, D.C. and San Diego.
Technically, Lyft is a free service. Drivers use their own car, with pink mustaches on their front grill, and riders give donations to drivers and Lyft takes a cut.
Lyft promises safety measures that go beyond what any taxi, limo or casual carpool has done before, including an extensive screening process, DMV and background checks and first-of-its-kind $1 million per occurrence excess liability insurance. Lyft's Denver service started Friday.
Download the app at www.lyft.me.
Craft beer dinner
1515 Restaurant at 1515 Market St. is featuring a special dinner paired with craft beers beginning at 6:30 p.m. on Wednesday.
The menu for $45 per person includes:
A selection of exceptional beers brewed by the Goose Island Brewing Company of Chicago and Leffe and Hoegaarden from Belgium.
Amuse bouche: Steamed mussel, bacon lardon, crispy beer batter
First course: Stella popcorn beloute, pork belly, sour cream pillow, chives;
Second course: Hoegaarde n braised bison, sweet potato pudding, rainbow chard, grilled peach;
Dessert: Peach pie, Leffe Brown "liquid nitrogen" ice cream, caramel lavender foam.
For more information, email events@1515restaurant.com, call 303-571-0011 or visit www.1515restaurant.com.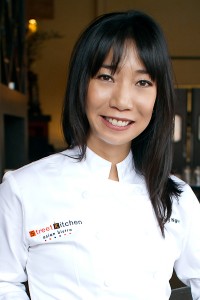 Mary Nguyen's new venture
The lovely and talented Mary Nguyen (above), who originally opened Parallel 17 at 1600 17th Ave. is concocting a new venture called Olive &  Finch at 1552 E. 17th Ave. She also owns Street Kitchen Asian Bistro at the Villagio in Englewood.
The latest concept from chef/owner Nguyen is an eatery, which includes a bakery and market. Specialties include scratch-made   pastries, artisan sandwiches and soups, salads, fresh pressed juices, and a  coffee bar with monthly rotating beans, all with a focus on healthy options  for those with allergies.
Nguyen's pastry chef is  Leslie Melland, graduate of the Culinary School at Le Cordon.
Olive & Finch also will have handcrafted items  for the table (linens, dish ware), fine prepared foods for takeaway, and  will be providing curbside delivery, catering, boxed breakfast and lunches in addition to holiday menu planning/preparation. The space is 1,500 square feet (55 seats), and was designed by Zar Designs, with interior design by Nguyen.
Eavesdropping on Sherri Shepherd at The Carousel Ball talking about her new co-host Jenny McCarthy: "She is fearless. She is great to work with, actually."
Did you hear that I have a new column, "Mile High Life," in Colorado Community Media's 17 weekly newspapers circling Denver? Be sure to like my Facebook page! Also, here's where you go to get my column emailed to you Mondays, Wednesdays and Fridays. My email: penny@blacktie-llc.com. Want to advertise your business here? Contact Trisha at trilind@hotmail.com.