Academy-Award-winning actress Geena Davis gave an amusing and passionate keynote speech during The Women's Foundation of Colorado 25th anniversary luncheon Friday at The Colorado Convention Center.
The Women's Foundation's mission is, "To build resources and lead change so that every woman and girl in Colorado achieves her full potential."
In keeping with that theme, Davis discussed some of her pivotal acting roles that led her to becoming a staunch advocate for women's issues and founding The Geena Davis air jordan 3 Institute on Gender in Media, an organization that challenges television and film creators to increase the perrcentages of female characters in media created for children 11 and  younger.
"The film that had the most impact on my life was Thelma and Louise," Davis told the packed room, which erupted in applause. "First, I had to get cast. The movie was already cast, but they kept changing actors and in the end there were three Thelmas and Louises. My agent called every week for a year."
When she finally got an audience with the director, Ridley Scott, she says she spent a half-hour pitching him on why she should play Louise.
"So you wouldn't play Thelma?" Scott asked. "I thought about it, then spent 20 minutes saying why I had to play Thelma. That film changed my life. People were stopping me and grabbing on my clothes talking about Thelma and Louise. Some would say, 'We re-enacted your trip and now we have guns.'"
Davis said these days she's in charge of choosing the roles she plays.
"I want to pick women in charge of their own fate. I have the luxury of picking roles because I haven't run out of money yet."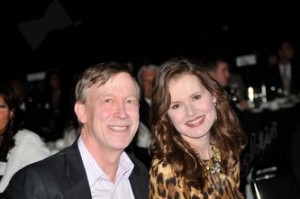 Caption: Gov. John Hickenlooper and Geena Davis. Blacktie photo by Pam Cress.
Mall marriage
I've seen a lot of activities (both legal and not) along the 16th Street Mall, but a wedding? Not so much.
But Shafiqa and Greg Nguyen tied the knot last month in front of invited guests and mall walkers and gawkers on the corner of 16th and Glenarm.
"We chose this spot specifically because the Denver Pavilion's sign is located close by and it is at the very heart of the Mall," the bride told me. "At the ceremony, there were a lot of spectators. They all seemed interested in the wedding and a lot stayed and watched. There was a lot of applause afterwards."
Shafiqa said the couple chose the unusual venue because their first date inadvertently included a stroll along the Mall. The two Aurora Central High School students met in an AP English class. For extra credit, they were given the option of going to the Tattered Cover for a book reading by Frank McCourt, the author of Angela's Ashes.
But their seats were behind a wall so they could neither hear nor see the author. Shafiqa suggested they leave the event.
"We ended up walking around 16th Street, sipping Jamba Juice and just talking," she said. "He told me later that it was that night he knew he wanted to be with me."
Greg is a software analyst and Shafiqa is a masters student at the University of Denver working on teaching degree.
Booze and bonding
The quarterly booze bash at The Brown Palace – this time the pairing was cigars and scotch – was Thursday, where roughly 50 high-profile men get together in a smoke-filled room during the super secret, double-probation event.
I get invited to these dinners with the strict understanding that no names are revealed. The only exception to the rule is to give a nod to The Brown's executive chef William Dexter, air jordan 4 who served a sublime meal that included duck confit salad with red spinach, seared scallops with spiced pumpkin seeds, beef tenderloin with potato cake and fall vegetables and a three-way chocolate dessert.
The scotches that were sipped and savored were Maccallan Fine Oak 18 year, Highland Park 12 year, Highland Park 18 year and the very rare and highly allocated Highland Park 40 year.
The evening ends with one appointee given the task of searching for a woman's sacrificial shoe that serves as a liquor luge, and all of the attendees must drink out of it. "It's like Communion," joked one participant as the scotch-filled shoe wetted his whistle.
Gritty and witty
The annual Gridiron Show, a benefit for the Denver Press Club (the nation's oldest press club), will feature entertainment from local politicians and media types starting at 7 p.m. Oct. 12 at the L2 Arts and Culture Center, 1477 Columbine St.
Entertainers and introducers include Gov. John Hickenlooper and the Hick-Tones with Tom Clark and Neil Westergaard; Mike Landess, Cynthia Hessin, Jim Benemann, TaRhonda Thomas; House Democrats Reps. Beth McCann, Dicky Lee Hullinghorst, Dan Pabon, Su Ryden and Jonathan Singer; House Republicans Mark Waller, Cheri Gerou, Amy Stephens, Ray Scott and Libby Szabo; and Mike Littwin and yours truly reunited since leaving The Denver Post.
Tickets are $20, and proceeds benefit the press club and its scholarships for journalism students. Available at www.blacktie-colorado.com.
Fall into new fare
Celebrate ChoLon's second anniversary and learn about the debut of the metro-area's own Zagat guide during a family-style dinner where chef Lon Symensma will introduce new fall dishes, beginning at 7 p.m. Wednesday at the restaurant at 1555 Blake St.
Zagat is partnering with ChoLon in this inaugural Presents event into the Denver market as the restaurant guide prepares to introduce a book for solely our area for the first time. Past guidebooks have lumped the Denver/Boulder restaurant scene together with other mountain states. Cost is $70 for four courses, or $98 for four courses with wine pairing. Reservations: 303-353-5223.
Eavesdropping on a man at the super secret scotch dinner: "Drinking scotch is like joining the Navy. It's not a job, it's an adventure."
Did you hear that I have a new column, "Mile High Life," in Colorado Community Media's 17 weekly newspapers circling Denver? Be sure to like my Facebook page! Also, here's where you go to get my column emailed to you Mondays, Wednesdays and Fridays. I'm now the social-media liaison for the Mile High Chapter of the Colorado Restaurant Association, so read my latest restaurant news there. My email: penny@blacktie-llc.com.