Jump on the bus, Gus and get a mini mani, Frannie when TV Guide Network's Nail Files mobile spa rolls into the Mile High City Friday through Sunday.
The nail salon on wheels is rolling into town as part of a promotional effort for the second season of the reality series Nail Files airing at 7 p.m. our time Sundays on the TV Guide Network.
"We've recreated my salon on a bigger type of food truck," said Katie Cazorla, owner of The Painted Nail in Los Angeles, a celebrity hot spot for mani/pedis. "Come by, say hello, get some free goodies like files, remover wraps, free mini mani and watch clips of the show."
The beauty bus will be stationed at the 16th Street Mall and Lawrence from 12:30 to 6 p.m. Friday, 10 a.m. to 6 p.m. Saturday and 10 a.m. to 6 p.m. Sunday.
It was a ring thing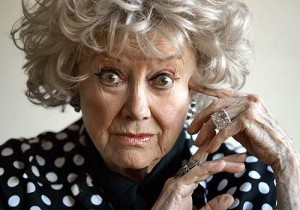 When comedian Phyllis Diller died on Monday, Chris Wiger, director of marketing and public relations at the Lone Tree Arts Center, air yeezy 2 femmes was moved to tell a story about the friendship he formed with Diller during Wiger's days at Disney World. He posted this on his Facebook page:
"So sad today to hear of the passing of my friend Phyllis Diller. I hosted Phyllis on her five trips to Walt Disney World. She was one of my favorite celebrities, always made me laugh and wasn't the least bit mad at me when I forgot I had the diamond she's wearing in this photo, valued at $2 million, in my pocket. She had to put her hands in cement for a Chinese Theatre ceremony and handed me the ring…I almost fainted.

"I took her back to her hotel suite, returned to my office, reached into my pocket and there it was. When I asked her about her plastic surgeries she said the only thing that worried her was that when she arrived in heaven God would not recognize her. I'm sure God, Bob Hope and so many others welcomed her to heaven with a standing ovation."
Good gift
Big DCPA backer Roger Hutson had a surprise in tow for Book of Mormon authors and Coloradans Matt Stone and Trey Parker, which he presented during the cast party after opening night Sunday.
Stone and Parker, the creators of the adult cartoon South Park, threw the opening night party for the cast and Denver VIPs in the Seawell Ballroom.
"Matt Stone and Trey Parker always said the Casa Bonita South Park episode was one of their favorites, so I brought them their own Case Bonita dive team T-shirts as a welcome home and thanks for premiering their (road) show in Denver," Hutson said. "They absolutely loved them. They had been to Casa Bonita just the week before as part of a South Park convention that was in town."
Book of Mormon, the Broadway smash hit, launched its U.S. tour in Denver, but you're on your own for snagging tickets. The show was a sell-out the first day tickets went on sale.
If you're Dave, you're famous
Men (or women, for that matter) named Dave, David, or Davey are invited to eat free entrees at all Colorado Famous Dave's Bar-B-Que restaurants Sunday during the fourth annual Dave's Day.
You just need to show a valid ID with the first name of Dave or a derivation of the name. Anyone showing a valid ID with the middle name of Dave, David or Davey will receive an entree for half price. Sorry, last names don't count.
Dave's Day is in honor of the founder, "Famous Dave" Anderson, and this one-day event has been brought back due to its success in spreading the story of Famous Dave and in generating enthusiasm among local communities. This annual celebration is held to honor the living breathing founder of the barbecue chain.
"Our restaurants observe some unusual behavior on this special day, such as babies named Dave showing up for free BBQ, guests who proclaim they are going to change their name to Dave, and multiple generations of Daves using our celebration as a celebrations for their families," said Dallas Massey, director of marketing for the Famous Dave's in Colorado. "This even gives us an opportunity to show our guests what we do best – being Famous."
For Colorado Famous Dave's locations and more information, go to www.legendarybbq.com or for the official Dave's Day video, go to www.facebook.com/famousdavescolorado.
Bar stars
Elway's at The Ritz-Carlton has expanded its bar menu to give us more reasons to hang out in that beautiful and bustling bar (not to mention the free valet).
New menu items include: Elway's green chili dog; Elway's signature pretzel; Colorado cheese plate; duo of slider;, Wagyu patty melt; nosh sampler with Elway's snack mix, corn nuts, free run 3.0 v2 femmes Tuscan olive blend and bacon caramel corn and warm spinach and crab dip. Put me in coach!
Eavesdropping on a Twitter post about Missouri Congressman Todd Akin's outrageous comment about rape victims: "It's the Show-Me state, not the Show-Me-U-Are-an-Idiot state!"
Did you hear that I have a new column, "Mile High Life," in Colorado Community Media's 17 weekly newspapers circling Denver? Be sure to like my Facebook page! Also, here's where you go to get my column emailed to you Mondays, Wednesdays and Fridays. I'm now the social-media liaison for the Mile High Chapter of the Colorado Restaurant Association, so read my latest restaurant news there. My email: penny@blacktie-llc.com.