No one in Denver has led a more illustrious, glamorous nor decorated life than Donald Seawell. Nor has anyone done so for 100 years.
And although Seawell insisted that friends keep his century mark celebration on the down low, Judi Wolf, Seawell's confidante and best buddy, coaxed her close friend into hosting an intimate cocktail party and dinner inside the ballroom that bears his name on Aug. 1, and to include select members of the press. I'm one of them.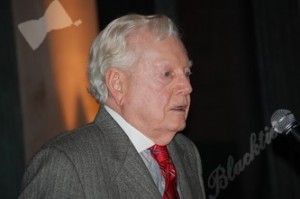 But how do you sum up the life of such an iconic figure whose credits include founder, chairman and CEO of the Denver Center for the Performing Arts, Broadway and London theatrical producer, nike cortez femmes chairman and publisher of The Denver Post and mastermind of the Denver Center for the Performing Arts Complex? Not bad for a lawyer from North Carolina.
So I crafted some questions for Seawell, and with the help of Wolf, conducted a Q&A session via e-mail.
How does it feel to have reached triple digits?
By the time one has reached 100, too many parts of the body have deteriorated…including the brain.  What was the question?  I forgot what you asked.
What single story or incident stands out? 
There were many.   In college I was picked to represent American colleges and universities in a series of debates in England, Scotland, Ireland and France.  That led to a scholarship at Oxford where I debated Winston Churchill.  After law school I was appointed to the newly formed Securities and Exchange Commission. Later I became general counsel of the S.E.C. and speechwriter for both President Roosevelt and Truman.
In World War II, I was a counterintelligence officer during the invasion planning of D-Day.  Later I was parachuted behind enemy lines to work with the French underground.
After the war, I became a New York lawyer with offices in London and Tel Aviv as well as a Broadway producer.  I produced more than 100 plays and musicals in New York and London.  Helen Bonfils was a part of the New York theater scene and that led to my representing The Denver Post against Newhouses' takeover attempt of the newspaper.  This led to me becoming chairman, president and publisher of The Denver Post.  When I sold it, I used the money to create the Denver Center for the Performing Arts. Most of these positions required real battles.  They each were memorable.  Pick one.
How has Denver changed over the years?
When I created the Denver Center, the tallest building in the downtown area was the D&F Tower.  No one stayed downtown after work except the hoboes who lived under the bridges and in box cars.  Mayor (Bill) McNichols warned me that he had a reliable company investigate and found only 3,000 people in Denver and the surrounding cities who had ever seen a professional performing arts production.  Over the years millions of people have come to enjoy a myriad events at our Denver Center for the Performing Arts.  And just look at all the great buildings we now have in downtown Denver!
What do you want your legacy to be for the city?  How do you want to be remembered?
I hope I have contributed to Denver's ceasing to be a cow town and becoming a thriving  nike kobe 9 metropolis. I enjoyed the responsibility of bringing culture and entertainment to as broad an audience as possible.
What has been your greatest achievement?
I sincerely hope it is yet to happen.
Ruth's Chris returning
Ruth's Chris Steak House, which famously ditched Denver in 2009, has selected a site in downtown Denver at 700 15th St. to make a comeback.
The high-end restaurant is to occupy a 9,000 square-foot space that formerly housed Wolf Camera on the corner of 15th and California in the Denver Dry Goods building.
Alecia Pulman, spokeswoman for the Winter Park, Fla.-based Ruth's Hospitality Group Inc., would not confirm that a company-owned Ruth's Chris was returning to the Denver market.
Denver's first Ruth's Chris, at 1445 Market St., was a franchise operation that failed. The same franchisee also closed the Aspen branch of the brand.
Kelly Greene, a colleague of the broker who leased the space, wasn't surprised that Ruth's Chris was returning.
"This is a pretty major market for them not to be in," said Greene, a seasoned restaurant broker at David Hicks & Lampert. His colleague Ken Himel, who represented the restaurant, did not return my phone call. "I think they have a loyal following and they're a nationally recognized brand."
Greene said Ruth's Chris picked that location – which by some estimates is a bit off the downtown restaurant beaten path – because of the proximity to the Colorado Convention Center and hotels.
"Their food is respected and their brand is really ," he said. Speculation is that the restaurant will open next summer.
Eavesdropping on a woman talking about her new dog to another woman: "She won't let me out of her sight and when we go out, I can hear her barking so I am pretty sure she has separation anxiety."
"That's OK. Every time my husband goes out I bark at him – mostly when he comes back!"
Did you hear that I have a new column, "Mile High Life," in Colorado Community Media's 17 weekly newspapers circling Denver? Be sure to like my Facebook page! Also, here's where you go to get my column emailed to you Mondays, Wednesdays and Fridays. I'm now the social-media liaison for the Mile High Chapter of the Colorado Restaurant Association, so read my latest restaurant news there. My email: penny@blacktie-llc.com.