"There is no way this is the Grand Hyatt," I said to myself as I walked into the party to celebrate the "old joint's" sorely needed makeover.
The functional-not-fun space on 17th and Welton was tired, dated and sterile; the renovated hotel is simply spectacular. A $28 million makeover has bathed the place in the fountain of youth.
To celebrate the transformation, roughly 1,000 invited guests oohed and ahhed as we toured the lobby, guest rooms, the Grand Hyatt Conference Center and the iconic 38th floor Pinnacle Club.
I almost feel sorry for the first-time folks coming to the Grand because they will never understand the true transformation of the spiffy space.
In the lobby, there's a bar built into the breathtaking far wall made of stone with two lineal fireplaces stacked on top of one another.
The 516 guest rooms and suites are sleek, modern and equipped with all the modern amenities that business travelers expect.
The renowned Pinnacle Club, used for events and meetings, have cherry wood and crystal appointments. But you can't improve on the view with windows that look out at miles of cityscape and the Rocky Mountains.
The party was a perfect complement to the new jazzy digs. Each of the three floors were rocking with entertainment and lavish food stations and premium bars.
The kitchen created 800 sliders, 950 street tacos, 13 strip loins, 1,200 shrimp, 800 crab claws, 450 lamb chops and countless desserts. And that's only the half of it.
For more information on the remarkable redesign, go to www.grandhyattdenverredesign.com.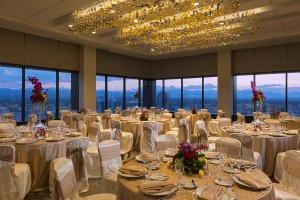 Bittersweet
For General Manager Greg Leonard, the renovation celebration also served as his goodbye party. Leonard, who's been at the Grand Hyatt for five years and at the Hyatt Tech Center before that, is going to the Hyatt Regency San Antonio on the Riverwalk and across the street from the Alamo.
"Although my family and I will sorely miss our experience and the friends we formed in Denver, we are looking forward to a new adventure in San Antonio," Leonard said. "I want to thank the people of Denver for making us feel so welcome during our time here. Denver is a special place."
The new general manager of the Grand Hyatt Denver is Mark Stiebeling who is moving here from the Park Hyatt Aviara Resort in Carlsbad, Calif. Hyatt began his career with Hyatt in 1992.
Snack attack
Capitol Hill will be the site of Snack Attack, a food truck festival from noon to 7:24 p.m. (huh?) Saturday in the Saint John's Cathedral/Argonaut parking lot (on Colfax and Washington).
The event will have a wide selection of Denver food trucks along with live local music and beer from MillerCoors. Participating tasty trucks include Caveman Cafeteria, Crazy Good Food, Capt'n Crabby, Barbed Wire Reef, Little India, The Panna Cotta Peddler, The Bistro Bus, Crock Spot and Hey PB & J.
Snack Attack is produced by Capitol Hill United Neighborhoods Inc. (CHUN). Find Snack Attack on Facebook at snackattack2012 for event information and updates.
More than one kind of draft at Taverns
The Tavern group of neighborhood restaurants is running a fantasy football draft party through Sept. 5.
For $100 per party, draft parties at each neighborhood Tavern will receive unlimited draft beer for a two-hour period for up to 12 people. The promotion is not valid after 4 p.m. Fridays and reservations must be made in advance. Free high-speed Wi-Fi is available at all locations.
"We always love it when people choose one of our neighborhood locations as their football headquarters," said Tavern owner Frank Schultz. Each location is adorned with numerous HDTVs. "It creates such a great energy when we've got groups of guests rooting on their favorite teams. Our draft party special is just a great way for us to welcome in the football season."
For Fantasy Football Draft Party reservations, call 303-226-1555. For location and other information, go to www.tavernhg.com.
Think drink
The Corner Office at 1401 Curtis St. recently launched a new cocktail menu including Tini Tuesdays featuring half-priced signature martinis from 6 to 9 p.m.
New martinis include: Flower Child (Bombay Sapphire gin, elderflower, green chartreuse, Crème de Viollete, Sauvignon Blanc and lemon); The Riddling Fig (fig infused vodka, Benedictine, Angostura Bitters, honey and lemon) and Sidecar (cognac, lemon, orange liqueur.
New cocktails include: Just Another Goat Rodeo (Milagro Blanco tequila, liquor 43, pepper, honey and lime); Life's a Peach (Seagram's vodka, peach, lemon, cardamom and soda water) and Johnny Boy (Laphroig 10-year-old scotch and jalapeno caramel).
More information at www.thecornerofficedenver.com.
Colorado lands two on top towns list
Two Colorado towns, Carbondale and Fort Collins, were mentioned in a list of Outside magazine's 18 best towns to live in.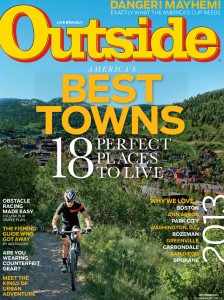 Carbondale, 30 miles north of ski mecca Aspen, was named to list because of its "killer farmers markets on Wednesdays, its quick access to adventure" and plenty of trails for hiking and mountain biking. Outside, an active-lifestyle and adventure-travel magazine, also touted the 44-mile paved Rio Grande Trail runs from Aspen to Glenwood Springs, with a spur up the Crystal River and also noted how residents can visitor has easy access to world-class biking, fly-fishing, rock-climbing, kayaking, and running at Carbondale's doorstep. Read more about Carbondale at http://www.outsideonline.com/adventure-travel/north-america/united-states/Best-Towns-2013-Carbondale-Colorado.html
As for Fort Collins, the magazine wrote how the beer culture helped support the biking community, particularly mention New Belgium Brewing Co. Fort Collins earned its spot on the list also because of closeness to backcountry terrain (like 10,276-foot Cameron Pass) and prime location on the brown-trout-filled Cache La Poudre River. Read more about Fort Collins at http://www.outsideonline.com/adventure-travel/north-america/united-states/Editors-Choice-Fort-Collins-Colorado.html.
Eavesdropping sent in by a reader: "If FedEx and UPS ever merged companies, would it be called Fed Up Services?"
Did you hear that I have a new column, "Mile High Life," in Colorado Community Media's 17 weekly newspapers circling Denver? Be sure to like my Facebook page! Also, here's where you go to get my column emailed to you Mondays, Wednesdays and Fridays. My email: penny@blacktie-llc.com. Want to advertise your business here? Contact Trisha at trilind@hotmail.com.