The crowd that gathered for Women Cook! a (mostly) all-female display of culinary prowess Monday night, erupted into applause and whoop-whoops when Jennifer Jasinski's name rang out.
Minutes before the presentation during the benefit for Work Options for Women at Temple Emanuel, word had spread that Jasinski, chef/owner of Rioja, Bistro Vendome and Euclid Hall, had bagged the first James Beard award for a Denver chef.
For Denver, winning a Beard – the equivalent of an Oscar – further cements this burgeoning foodie town's growing reputation as a gastronomical force to be reckoned with. Jasinski took home the Best Chef award for the Southwest Region, and was joined in the winner's circle by Frasca Food and Wine's Bobby Stuckey and Lachlan MacKinnon-Patterson, who won in the Outstanding Wine Program category.
Jasinski (who ironically was seated in row "J"), was accompanied to the awards ceremony in Avery Fisher Hall at Lincoln Center with an entourage of her husband and Squeaky Bean chef Max MacKissock, business partner Beth Gruitch and publicist John Imbergamo.
"Max, Beth and I all jumped up when we heard her name," Imbergamo told me. "Max nearly decapitated the man in front of him. Tears, joy ensued. Jen gave a short thank-you speech."
In her speech, Jasinski thanked her accompanying support team plus the staff at Rioja, a Larimer Square Mediterranean eatery that's been open for nine years.
Meanwhile, back at Women Cook!
Patrons grazed at 15 food stations serving tapas style plates, and sipped on wine and beer during the sold-out event.
I sampled spring lamb shepherd's pie from Alex White at Jonesy's Eat Bar; house-made Italian beef bratwurst with giardiniera and celery salt aioli from Aniedra Nichols at Elway's Cherry Creek; Colorado lamb burger with hummus, goat cheese and cucumber plus a leek and goat cheese mini quiche from Craig Dixon at Café Options; steak tartare on a grilled baguette from Dana Rodriguez at Bistro Vendom;, pasta al forno in a mornay sauce from Elise Wiggins at Panzano; spring pea risotto with truffle and parmigiano with Gabe's chicken sausage in endive leaf from Jasinski at Rioja; verinne of strawberries in balsamic and vanilla bean buttermilk panna cotta from Lisa Bailey at D Bar Desserts and tea cookies from Kathleen Kenny Davia at Gateaux.
Despite all the tempting treats, the evening raised a lot of "dough" for Work Options for Women, an organization that trains indigent women skills to ready them for work in the hospitality industry. More information or to donate, go to www.workoptions.org.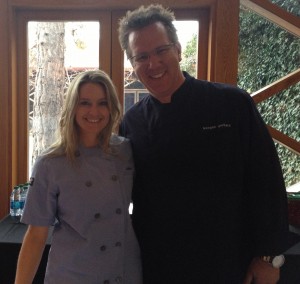 Makes cents
Quarters for Kids, the annual event founded by Tammy and the late Noel Cunningham, will continue holding its annual fundraising campaign despite the recent closure of Strings restaurant.
Viewhouse Eatery, Bar & Rooftop, a new venture for Lotus Concepts at 2015 Market St., has stepped into the Cunninghams' sizable shoes to acknowledge the fundraising efforts and honor the children with a private breakfast on Friday.
Quarters for Kids is a school-based program where students raise quarters to help provide breakfast residents at the Volunteers of America Brandon Center for Battered and Homeless Women and their children.
Denver Mayor Michael Hancock will recognize the efforts of area students, KOSI-101 radio personality Murphy Huston will emcee the event and Denver Nuggets mascot Rocky will entertain the students.
According to VOA legend, 22 years ago Noel discovered – after talking to VOA's Jim White – that the cost to feed breakfast to a child living in one of Denver's home shelters was 25 cents. The idea that such a small amount of change could make such a difference motivated Noel to start the Quarters for Kids campaign.
While this year's campaign ended in April, schools and students can plan to participate next April. For more information, go to www.voacolorado.org.
Arts festival makes move
The original Downtown Denver Arts Festival, which celebrates its 15th anniversary this year, will include a lineup of some of the state's most outstanding artists during this year's festival May 24-26 (Memorial Day Weekend) at the Denver Performing Arts Complex.
The festival is moving from the Denver Pavilions back to the DPAC where it was held during its first three years.
"The DPAC will be able to better accommodate our popularity and growth, while providing a more spacious, enjoyable and art friendly atmosphere for our attending artists and their clientele," said DDAF director Jim DeLutes, "It will be a tremendous location to celebrate our 15th anniversary."
More information on this year's event, go to www.downtowndenverartsfestival.com.
Den-Mex fare finds its way onto top ethnic food list
Food & Wine contributing editor and the Travel Channel's "Bizarre Foods" host Andrew Zimmern included two Denver institutions in his list of Best Ethnic Food in the U.S., which was released Tuesday on www.foodandwine.com.
He found satiating solace at two Denver institutions: Chubby's and El Taco de Mexico. Here's what he wrote:
"About a third of Denver residents listed themselves as Mexican American on the 2010 Census, so it's no surprise that nearly every local food writer you talk to says that if there's a food that defines Denver—it's Den-Mex. The signature of Den-Mex is green chile, a spicy bright orange sauce with the consistency of gravy, made from Colorado chiles, pork, lard and tomato.
"You can check out Chubby's for a late-night after-the-bar gut bomb commodity burrito, but for truly amazing flavors El Taco de Mexico is a must. Denver's quintessential taqueria, the authentic spot serves the best menudo and tacos in the city. I bet there isn't another restaurant in town that utilizes as many varied techniques of meat cookery as well as the grandmoms do behind the counter at ETM."
See the entire list of his ethnic finds at: http://www.foodandwine.com/slideshows/andrew-zimmerns-favorite-ethnic-food-in-the-us?xid=TTIPS050713FullListAndrewZimmerns#!slide=10.
Eavesdropping on a woman to a man: "Happy Cinco De Mayo!"
"Does Cinco De Mayo fall on the same day every year?"
Did you hear that I have a new column, "Mile High Life," in Colorado Community Media's 17 weekly newspapers circling Denver? Be sure to like my Facebook page! Also, here's where you go to get my column emailed to you Mondays, Wednesdays and Fridays. I'm now the social-media liaison for the Mile High Chapter of the Colorado Restaurant Association, so read my latest restaurant news there. My email: penny@blacktie-llc.com.