"Beverly Hills Cop" movie franchise actor and Fort Collins resident John Ashton is about as happy as it gets for someone who has chosen and endured a rather tortured profession.
As super model and "Project Runway" host  Heidi Klum says, "One day you're in and the next day you're out."
Ashton has ridden the Hollywood roller coaster especially after finding fame in the Eddie Murphy vehicles "Beverly Hills Cop" and "Beverly Hills Cop II" playing the curmudgeonly Det. Sgt. John Taggart.
But the University of Southern California theater grad who aspired to be a stage actor didn't love the Hollywood life. His IMBd resume shows his stripes as a tireless actor taking jobs on movies including "Midnight Run" with Robert DeNiro and on episodic TV series such as "Judging Amy," "Fantasy Island" and "JAG."
Ashton, who retreated to a relatively quiet life in Fort Collins years ago because Hollywood felt like an ill-fitting suit, is back in the movie game with "Uncle John," an Indie film where he stars as the namesake character in this murder mystery set in Wisconsin and Chicago.
The movie will likely travel to the Sundance Film Festival or, if luck is on their side, first to producer/director David Lynch, who worked with "Uncle John" writer and producer Erik Crary on the film "Inland Empire" in 1996.
But Ashton, who earlier this week parted company with his agents, is most fired up about this movie, which, he says, has brought him back to his original journey to become an actor who does meaningful work.
"It's the best script I've read in years," Ashton told me during a phone interview. "It's something I've been begging my agents for me to do. I read the script and said, 'Man, I'm on board.' I don't think I'm going to work for anybody over 40 any more."
Like I said, Ashton plays the title character who is a level-headed guy who helps out his neighbors with fix-it jobs in rural Wisconsin.
"He's Uncle John," Ashton said. "Everybody loves him. He fixes people's water pipes and cabinet doors. The honesty of the character I loved."
As for his future part with the "Beverly Hills Cop" franchise, Ashton is unclear. His Det. Taggart role was cut out of the proposed TV series pilot, which was nixed by CBS, but there's still a chance for another "Beverly Hills Cop" movie.
"Whether they take my advice that Judge (Reinhold) and I should be in the movie, that's up to the Hollywood gods," Ashton said. "But doing 'Uncle John' refreshed my career. Working with energetic artistically minded kids was so refreshing for me. This is what I was trained to do."
Have a ball
"The View" co-host Sherri Shepherd and Denver's own nice rich guy David Mandarich, along with his wife, Bonnie, will be honored for their philanthropic work with the High Hopes Awards during The Children's Diabetes Foundation Carousel Ball 2013 on Sept. 21 at the Denver Marriott City Center.
The Carousel Ball, founded in 1977 in Denver by Barbara Davis and her late husband Marvin Davis, raises money for programs for clinical care and research for more than 6,000 children and adults at the Barbara Davis Center for Diabetes.
The black-tie event, this year chaired by Charlie and Judy McNeil of NexGen Resources Corp., features entertainers Melissa Manchester and Chris Mann.
Manchester is a Grammy-Award-winning singer and songwriter and Mann is a singer-songwriter and finalist from NBC's weekly competition series "The Voice."
David Mandarich is president of MDC Holdings. He and his wife, Bonnie, are supporters of many local charities. For tickets, contact Kate Passaris at the Children's Diabetes Foundation at 303-863-1200 or by e-mailing kate@childrensdiabetesfoundation.org.
Spoiler alert!
If the most recent episode of Bravo's "Top Chef Masters" is still camping out on your DVR, skip this item.
But for those of you in the know who watched Wednesday's competition, you saw Denver restaurant owner/chef Jennifer Jasinski and sous chef Jorel Pierce win both the quickfire contest and elimination challenge to bring home $15,000 for Jasinski's chosen charity, Work Options for Women.
That makes a solid $30,000 for WOW, the Denver charity that trains impoverished women the skills to gain employment in the foodservice industry.
Jasinski, who was told to "pack her knives" a couple of weeks ago, sliced her way through the "last chance" competition to win a redemption spot on the reality TV series.
Her winning dish in the quickfire challenge was scallop with ketchup sauce, fermented black beans, avocados and blood orange.
For the elimination challenge, Jasinski's winning dish was guajillo chile posole with shaved cabbage, lime, cilantro and queso fresco and shrimp, bass and scallop ceviche with papaya, mango, pineapple and plaintain crisp.
There are four chefs remaining in the competition with two episodes left to air (at 8 p.m. Wednesdays our time on Bravo). You go, Jen! Do this for Denver.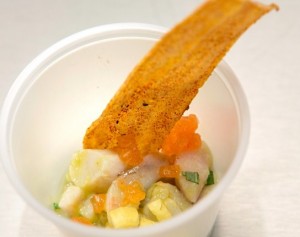 Wine time
Metropolitan State University of Denver is hosting "An evening With the Masters" on Sunday, featuring a screening of the film "SOMM," an insider's look at the prestigious Master Sommelier examination.
With a 90 percent failure rate, there are fewer than 20 people who have been crowned as a Master Sommelier the past 40 years. During this event, at the SpringHill Suites Denver Downtown (1190 Auraria Parkway) you are invited to mingle with several of the world's foremost wine experts contributing to Metro State's evening of sensory celebration and entertainment.
The evening begins Sunday, Sept. 15 with a wine reception and silent auction from 5:30 to 7 p.m., followed by a screening of the movie at 7:15 p.m.
Other events are a four-course dinner with wine pairings prepared by executive chef Kevin Taylor and his son, Ryan Taylor; MSU Denver Hospitality, Tourism and Events student and Jay Fletcher with Southern Wine & Spirits of Colorado.
Also available are tickets to a guided wine tasting with either Bobby Stuckey, master sommelier and co-owner of Frasca Food and Wine in Boulder or with master sommelier Brandon Tebbe with Synergy Fine Wines.
Proceeds from the event will benefit MSU Denver's Hospitality, Tourism and Events Department and the Hospitality Learning Center. For tickets and more information, go to www.msudenver.edu/sommfilm/.
A winnah!
Tony's Market executive chef Michael "Mick" Rosacci is the winner for two VIP tickets to Denver Beerathon on Saturday (tickets still available at www.denverbeerathon.com).
Here's what he won: The VIP ticket directs beer lovers to check in between 11 a.m. and 3 p.m. is at Fado Irish Pub and Restaurant (1735 19th St.), and includes a VIP-only party with a buffet, prizes and giveaways and a $20 Uber car service pass plus a $25 day of event pass (new Uber users only),  Altitude Peak Fitness two-week unlimited pass, $99 room rate at the Sheraton Denver Downtown Hotel among other goodies.
The link for $99 rooms at the Sheraton Denver Downtown Hotel (regularly rooms are about $350) is:  https://www.starwoodmeeting.com/Book/denverbeerathon. More information on the Beerathon at www.denverbeerathon.com.
But just because your name wasn't drawn (from a list of new and veteran subscribers) doesn't mean the party is over. Our new giveaway incentive to sign up at www.blacktie-colorado.com/pennyparker is two VIP tickets to "Clean Guys of Comedy," a stand-up show featuring performances by Jamie Kennedy, Dave Coulier, Heather McDonald, Andy Hendrickson and Ralph Harris for one night only at 6:30 p.m. Sept. 19 at the Buell Theatre.
The "Clean Guys of Comedy" show marks the launch of a new comedy brand targeted toward audiences who enjoy adult but clean stand-up laughs. And, just in case you don't win the random drawing, you can purchase tickets at www.fathomevents.com.
In the meantime, get all your friends to subscribe to my column for a chance to win. The winner will be drawn at 6 p.m. on Sept. 16 and announced in my column on Sept. 18.
Eavesdropping on a woman on Facebook: "Heaven help me, but I learned just how old I am today by watching a video on twerking and then actually trying to twerk. Luckily there is no one here to witness this frightening maneuver."
Did you hear that I have a new column, "Mile High Life," in Colorado Community Media's 17 weekly newspapers circling Denver? Be sure to like my Facebook page! Also, here's where you go to get my column emailed to you Mondays, Wednesdays and Fridays. My email: penny@blacktie-llc.com. Want to advertise your business here? Contact Trisha at trilind@hotmail.com.